Welcome to Nova Internet Marketing Solutions (NIMS). Today our topic will be helpful for WordPress beginners  in which we will discuss that Self Hosted WordPress.org is better or Free WordPress.com. In this article we are giving information about both WordPress services with comparisons that will give you a full overview of both services.
The debate between both services can't be described in single article but we will give you major differences that will be helpful to understand better services and you can easily choose the best option.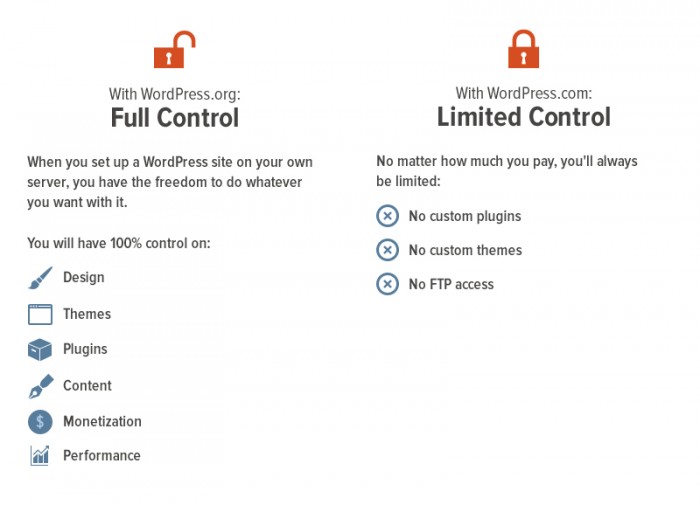 Self Host WordPress.org

vs

Free WordPress.com

For Beginners Choosing between WordPress.com and WordPress.org is a question mark in their minds. Today at this table we will compare both services and it depends on you that what you will like to choose. Here you can make the right choice for your new WordPress blog.

Self Host WORDPRESS.ORG

FREE WORDPRESS.COM

*UPGRADES

Full Theme Support

Limited Theme Support

CSS upgrade for WordPress.com can be purchased for $30/ year.

You can purchase commercial themes that will be your property after paying one-time fee.

You can use your own custom theme/ commercial theme, plus other free themes. You can customize themes or can make any changes to your site any time without any disturbance.

In Free WordPress.com you can't customize your theme or you can't upload your own themes. Only WordPress.com free themes can be used and you can't modify the CSS or other codes within the theme.

+

Plus

All Plugins Allowed

No Plugins Allowed

A WordPress.com VIP program gives full control over plugins, themes, PHP code, ads, etc.  You can get this service only $2500/month for up to 5 sites.

Plugins are the essential part of WordPress blog. With this service you can upload any free, paid or custom plugin that you want.

You can't upload free or paid plugin. They are giving own built-in

wordpres

plugins.

 +

Plus

Regular Expense

Free*

 

 

Domain charges $12 – $17 /

year. 

If

 you need more space so space upgrade starts at 5GB for $19.97 / year and goes up to 100GB for $289.97/year

.

Ad free option costs $29.97 / year

3 things will make a complete website or blog  in which is Domain, Hosting and CMS system. Domain charges fee yearly and Hosting fee monthly.

If you will choose WordPress.com, so they will give you up to 3 GB of storage space. They are also giving free sub domain but if you will like to choose your own domain so you will pay for your own domain. Your blog will display text ads to logged out users.

+

Plus

Monetization Freedom

Limited Monetization

 

While the approval request is free of cost but revenue will split  50 / 50 automatically.

Without revenue a self hosted blog can't run because of expenses.  Self Hosted blog is giving 100% freedom of ads. Your earning will be your own.

In this package you are not allowed to sell ads on your site unless you receive 25,000 pageviews / month. If you have 25,000

pageviews

/ month in this situation you can apply the feature called Ad Control.

 +

Plus

Maintenance

No Maintenance

Information

WordPress is a free and open source blogging tool and a content management system (CMS) based on PHP and MySQL which runs on a web hosting service.

Maintenance is an important for your blog in which you will be responsible for keeping your site updated, keeping regular backups, having SPAM control options and the most important part is optimized your site.

WordPress.com is giving free maintenance in which WordPress.com staff will take care of your blog / site including updates, backups, optimization and more.

Not Part of the Network

 Extra Traffic

WordPress.com is a network and they are giving extra traffic but this blog will be your own property. Your Independent blog is not a part of WordPress.com, so you will not get any extra traffic from WordPress.com

WordPress.com is a network of different blogs and they can feature your post in their blogs of the day section or tags. This kind of selection will give you extra traffic to your blog / site.